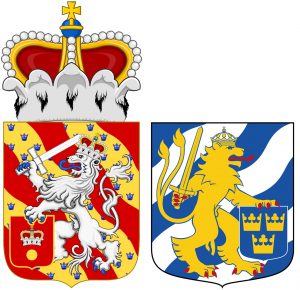 So the Micronation of Lorenzburg is preparing to expand by setting up a colony in central Gothenburg, the second largest city in Sweden. By summer 2018 the Gothenburg city section of Lorensberg will be incorporated in the Lorenzburgian sovereignty under the name New Lorenzburg. The micronation will be an Ar(t)istocracy and Constitutional Monarchy.
The newly composed coat of arms will be an improved version of the traditional Gothenburgian coat of arms, which features several "Heraldic Mistakes". However since the original coat of arms has a long tradition no one ever bothered to make it more heraldically "sound".
The new coat of arms features elements of the traditional Gothenburgian coat of arms as well as symbols of the Most Serene Principality of Lorenzburg.
The blazon of the arms of New Lorenzburg is: "A quadrated shield, Fields one and four Azure, semé crowns Or a roundel Or and a princely hat Proper. Fields 2 & 3: Gules, three undy bends Or with semy of crowns Azure, Argent lion rampant crowned with a "Princely" hat Proper, raised dexter paw holding a sword Argent, sinister paw holding a shield bearing the lesser coat of arms of the Most Serene Principality of Lorenzburg: Gules, a roundel Or above which a princely hat Proper. A "heart shield" (Inescutcheon): Argent, a peacock Proper holding a pea Vert in dexter talon and "utböjt mantelsnitt" Azure dexter part with the constellation Corona Borealis Or and sinister part with a crown Or."